"Brother" Claude Ely (July 22, 1922 – May 7, 1978) was an American religious singer-songwriter and a Pentecostal Holiness preacher.  Brother Claude Daniel Ely, coined as the King Recording Label's "Gospel Ranger" of the Appalachian Mountains, was born in Pucketts Creek, Virginia.  Receiving fame for his song, "There Ain't No Grave (Gonna Hold My Body Down)", Ely's musical style and spiritual influence still exist today among both secular and sacred music enthusiasts. – Wikipedia
Brother Claude Ely was a huge influence on many important artists, such as Elvis Presley and Johnny Cash.  Elvis was first exposed to his music when his mother Gladys brought him to Ely's tent revivals.  "The Sensational Country Blues Wonders!" have been performing Ely's composition "Ain't No Grave (Gonna Hold My Body Down)" for some time now and it has become one of our signature tunes.
Original program of the late Brother Claude Ely that was distributed at his funeral in 1978.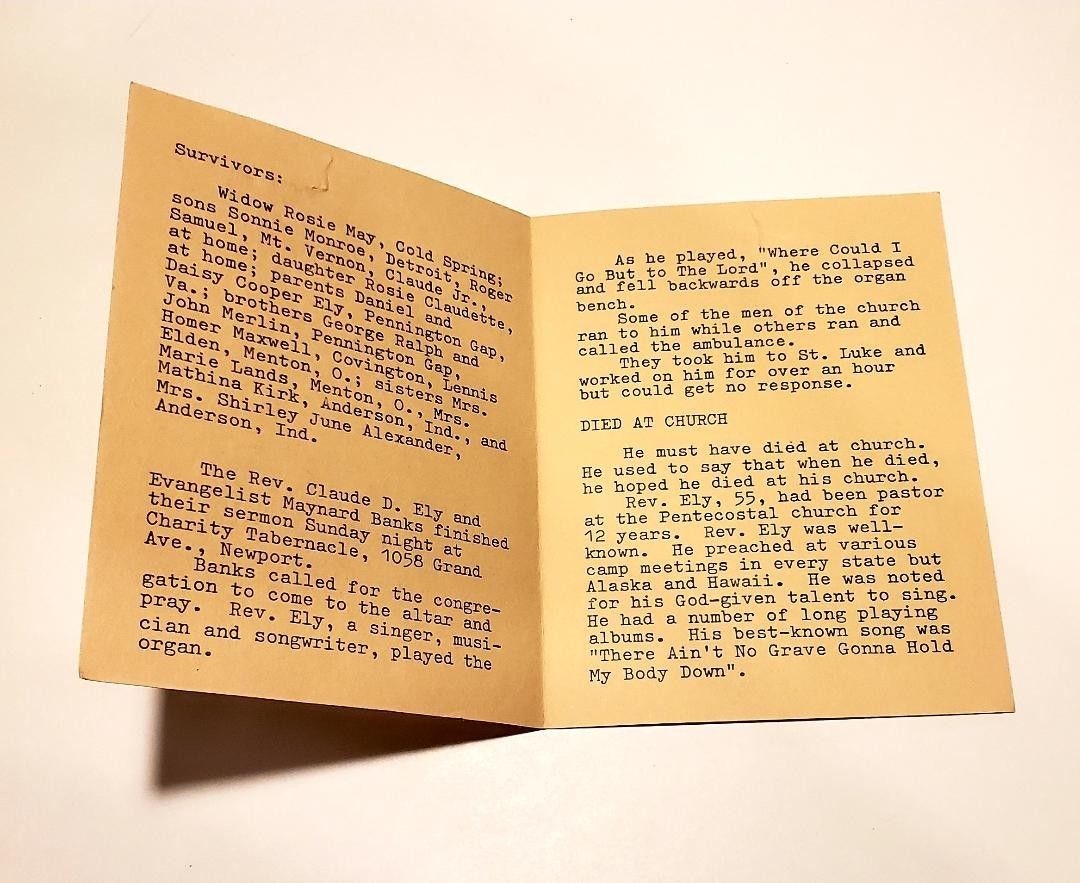 …and Holiness preachers such as Brother Claude Ely rave on like renegade rockabilly cats … You have Brother Claude Ely doing radio broadcasts that sound like a tent revival … I think his material is as strong as anything Sun Studio did. Even the wildest rockabilly rarely reached the unhinged delirium of "There Ain't No Grave Gonna Hold My Body Down," … A Holiness preacher from Kentucky, Ely was a faith healer and a terrific guitarist, judging from the ferocious rockabilly rhythms on "Grave," a country hit in 1953. Ely and many others … foreshadow the rock-and-soul explosion, when church-reared performers such as Ray Charles and Aretha Franklin fused sanctified and secular style to revolutionize pop music. –  The Washington Post